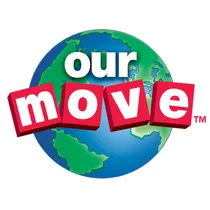 Our Move is a series of support products and tools created for families who are relocating. Part of the Transitional Learning Curves program I co-developed with two of my colleagues, the materials contained in this relocation aid package — including a card game, a keepsake album, a calendar, and a guidebook — have been custom-designed to help individuals and families ease the process of adjustment inherent to moving.

Whether the move is around the corner or around the globe, expatriation involves physical, mental, and emotional work that can be hard on every member of the family. Everyone knows about the stress of packing up boxes, preparing for a new residence, changing schools and such, but what about dealing with the feelings that can come along with ending life in one place and starting over in another; saying goodbye and hello, often in the same day? Paying attention to this aspect of moving often falls to the bottom of the to-do list (if it makes the list at all), and yet it can be critical to a smooth and healthy adjustment for the entire family.

For those who are used to regularly packing up their lives and shipping them off to a new locale every few years (for example, military, foreign service and company families), there's a host of terms they know only too well, terms like "expat," "third-culture kid," "trailing spouse," "accompanying spouse," "serial mover," "serial expat," "repatriation," "short-term move," and "deployment." It's for people this vocabulary applies to that Transitional Learning Curves was created, and so the ultimate goal of the Our Move series is to bring a sense of inclusion instead of exclusion, comfort instead of anxiety, feelings of assimilation instead of feelings of alienation, and fun instead of fear.

Interested in additional assistance related to relocation support? Contact me to discuss how I can help smooth your move.